Please join us tonight in paying tribute to Lance Cpl. Christopher "Steele" Meis, who gave his last full measure of devotion while making a difference on St. Patrick's Day.

"The man who will go where his colors will go, without asking, who will fight a phantom foe in a jungle and mountain range, without counting, and who will suffer and die in the midst of incredible hardship, without complaint, is still what he has always been, from Imperial Rome to sceptered Britain to Democratic America. He is the stuff of which legions are made. His pride is his colors and his regiment, his training hard and thorough and coldly realistic, to fit him for what he must face, and his obedience is to his orders. As a legionary, he held the gates of civilization for the classical world...he has been called United States Marine."

~ Lieutenant Colonel T.R. Fehrenbach, US Army in "This Kind of War"
Lance Cpl. Christopher S. Meis, 20, of Bennett, Colo., died March 17 while conducting combat operations in Helmand province, Afghanistan. He was assigned to the 2nd Battalion, 8th Marine Regiment, 2nd Marine Division, II Marine Expeditionary Force, Camp Lejeune, N.C.

Chris "Steele" Meis was a machine gunner with 2nd Battalion, 8th Marine Regiment, 2nd Marine Division, II Marine Expeditionary Force, based in Camp Lejeune, N.C. Meis' mother, Holly, said Friday that the Bennett High graduate knew from a very early age that he wanted to serve his country."He was a standup guy who knew he wanted to be a Marine since the eighth grade," she said. "He was funny, considerate, a gentleman. He loved his family. He was all about family and all about country."

Meis made good on his promise to serve in the military and enlisted in the Marines in January 2010. "He felt like they were the best and hardest branch to get into," Holly Meis said of her son's choice. "He felt like they were the best of the best. The few, the proud." He was deployed to Afghanistan with Operation Enduring Freedom in January. He was promoted to lance corporal on March 1, less than three weeks before he was killed. Meis and his unit were on a mission in Helmand province when they came under fire, according to the Defense Department. During the firefight, Meis was fatally shot in the chest.

His mother said that whenever her son phoned home, he always said he had found his calling. "He loved being a Marine," she said. "He said he was going to make a career of it, and he told me last week he was going to re-enlist. He wanted to be the front guy; he wanted to make a difference."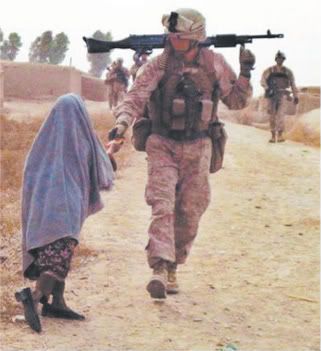 Chris Meis, making a difference with an Afghan child while on patrol, days before his death
Lance Corporal Meis is survived by his mother; his father, Christopher; and a brother, Hunter, 16.
Full Military honors were given to you today as I watched your family and friends with tears in my eyes. They are so proud of you! I watched you grow through your Dad's eyes over the years. God bless the Meis family, thank you Steele! A son, brother, a Marine.........I honor you.
~
Cindy Steele,
Evergreen, Colorado

Chris "Steele" Meis comes home
Please join us in prayer for "Steele" Meis, and those who loved him.
What is excellent,
as God lives, is permanent.
Hearts turn to dust,
hearts love remains.
Hearts love will meet the again.




- Emerson
About "I Got the News Today" (IGTNT)

I Got the News Today is a diary series intended to honor service members who have died as a result of the wars in Iraq and Afghanistan; its title is a reminder that almost every day a military family gets the terrible news about a loved one. Diaries about the fallen usually appear two days after their names are officially released, which allows time for the IGTNT team to find and tell their stories. The series, which was begun by i dunno, is maintained by Sandy on Signal, monkeybiz, noweasels, blue jersey mom, Chacounne, twilight falling, joyful, roses, SisTwo, a girl in MI, Spam Nunn, JeNoCo, Janos Nation, True Blue Majority, Proud Mom and Grandma, Wide Awake in Kentucky, CalNM and Maggie Jean.

Please bear in mind that these diaries are read by friends and family of the service members chronicled here. May all of our remembrances be full of compassion rather than politics.

If that's not clear, read this: http://www.dailykos.com/...